A man from Callington has crossed one of his bucket list items off as he soared through the air on a zip-line — at the age of 92!
George Dawe first went down a zip wire in 1949 as an army conscript. 
He loved the experience and has always wanted to repeat the thrill. Now, aged 92, he's achieved his long-held dream – and Richard Oliver, the three-year-old son of a friend, was with him for the ride.
As a former taxi driver, George is well-known in the local community. He used to drive people for day care or to see loved ones at Chyvarhas Residential and Nursing Home in Callington so, when Denise Eaton took on the role of activity coordinator there, he started popping in for coffee on a more regular basis.
Downsizing his home meant clearing out some of his music and DVDs, so George took them to Chyvarhas for the residents. That led to wanting to do even more for a place he considered special and the idea for a sponsored zip wire challenge was born.
"I could see how much Denise and the team do for the people living at Chyvarhas and wanted to help them," said George. "Many would say I've always been a bit mad so, when Julia Oliver, Richard's mum, suggested her son could ride the zip wire at Adrenalin Quarry with me, we decided to raise money for the home at the same time.
"That was three weeks ago when I thought we'd be lucky to get £100 – but more than £1,000 has already been promised!"
Julia is a carer herself who used to work at Chyvarhas.
"George and I have been friends for many years. I've been down a smaller zip-wire before and, to start with, said I'd go with him. Then my three-year-old wanted to join in. I can't think of a better cause."
Chyvarhas is a former Cornwall Care home that is now run by Sanctuary Care. All money raised will go towards the Chyvarhas Residents' Comfort Fund.
"I've known George for a long time – he's such an amazing character," said Denise Eaton. "He's always the first person on a dance floor and the last off it and our residents love seeing him here. 
"He brings a smile to everyone's faces and we can't thank him enough for undertaking this adventure on the home's behalf."
At 50m high and located near Liskeard, Adrenalin Quarry bills itself as having 'the UK's maddest zip wire' and there are no age restrictions.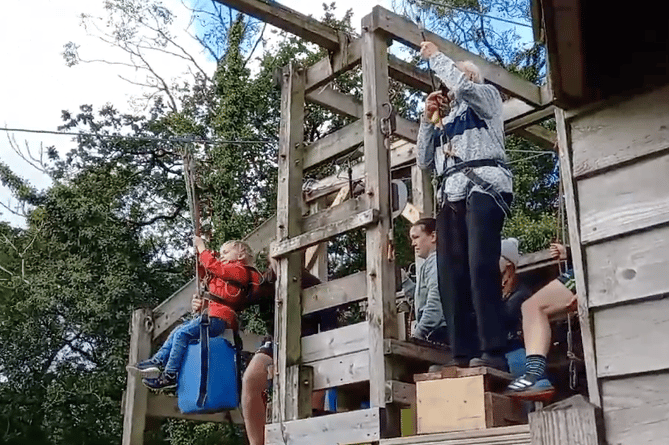 George Dawe, 92, and three-year-old Richard Oliver setting off on their zip-wire challenge on Monday
(Contributed)