Thousands of party goers attended an illegal rave over the jubilee weekend. People began to arrive at the site on Davidstow moors on Friday, June 3 to attend an unlicensed music event. At around 10pm police were called out to reports of around 200 cars and loud music coming from the moors which could be heard from nearby villages.  
Over the bank holiday weekend, it was believed that over 1,000 people from all over the country attended the event and seven make shift stages were set up over the moorland. Police remained at the gathering alongside specialist units, a cordon was put in place to prevent more people from entering the area.  
Several of the surrounding roads were blocked and caused some congestion in the local area and around Davidstow creamery. 
A Devon and Cornwall police spokesperson said: "The majority of people have left the site and police cordons were removed overnight.
"As is standard practice, we will review the policing response to this event in due course.
"We will continue to work with partners to offer support and guidance to those affected."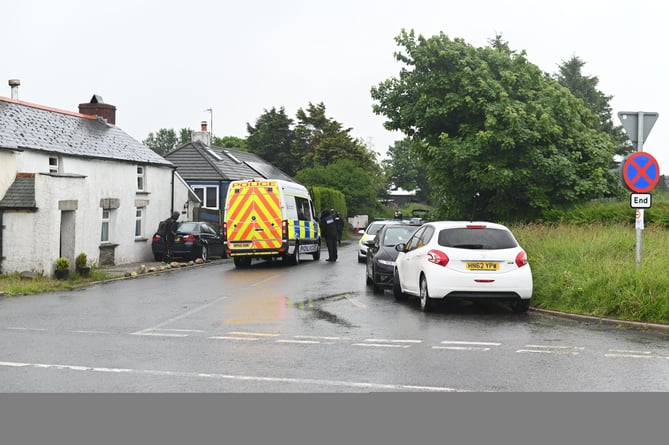 Davidstow Rave
(Adrian Jasper )
Since the weekend, a mass clean-up has taken place in the area. Forestry England has begun helping in clearing up the woodland, it has been said that the two-day event had produced enough litter to fill around six skips and left a trail of vandalism in its wake. A specialist contractor will be required to remove the waste, potentially leaving the forest closed to visitors until early August.
Forestry England has been approached by local groups and businesses offering to help with the clear-up but is asking the public not to pick up litter or other items for their own safety. 
Barry Jordon, Cornwall councillor for Camelford and Boscastle, was one of the people who returned to the area to help with the clean up. He said: "I have just come back from Davidstow, the site is being cleaned but the does not detract from the point that it was an illegal rave, the damage is not just about the land but also the environment, car engines running, fire going all the time, even heard someone in the woods with a chainsaw.
"I have picked up 5 bags of rubbish which was dumped in the ditches, not everyone was careful, cans, bottle tops, plastic bottles and other detritus, we don't want to stop people enjoying themselves but it must be in a safe environment with toilet facilities, we need to work with the Council, Police, MP and other bodies to prevent this type of illegal rave that caused so many problems for local people living within about 10 miles, working together we could solve the problem."
Around 10 arrests for drink, drug and driving offences were made over the weekend. The individuals have since been released from police custody pending further enquiries.
Scott Man, North Cornwall MP, said: "Evidence is being gathered so that those responsible in attendance can be put forward for potential prosecution. I can only urge those who are still in attendance to leave as soon as possible, and anyone still considering attending this event not to do so.
"I am not happy that many people in North Cornwall have had to put up with this unplanned and uninvited event, especially when so many of you have worked hard to make this an unforgettable weekend. The organisers of this illegal event have given no consideration to our community, or the cost of cleaning up the mess they are likely to leave behind.
Despite the rain and mud, some of the party goers remained at the festival site until Monday (June 6) morning and many helped out with the clean-up, refusing to leave until it was tidy. 
One reveller who attended said: "There seemed to be people from each rig crew picking up rubbish as it got dropped on the floor from what I saw, and the campers brought bin bags and cleaned up their own areas.
"I had such an amazing time, although my tent flooded and all my stuff drowned, the people to attended were so lovely I made loads of new friends from all over the UK" 
A Go Fund me page has since been put up to raise money for the crews who have stayed behind to pick up any remaining rubbish, £1,445 has been raised so far.