ONE of the biggest D-Day commemoration event was held this weekend in Cornwall as Bude at War got underway, gathering veterans, visitors and locals to remember when 'war came to Bude'. 
During the Second World War Bude became the temporary home to the American Rangers. Troops were posted in the Cornish town and would use it's beaches and cliffs to train ahead of the D-Day landings. Eighty years on, the town has forged an unforgettable experience, creating an 'edutainment' event to mark the anniversary.
This weekend (September 15 to 17), Bude was transported back in time as military vehicles, British and American camps, code-breaking and even a D-Day beach assault re-enactment came to the town. 
Clair Roberts, who runs The Kitchen Front in Bude, helped organise much of the weekend. 
She explained: "This event came about after interviewing 40 local people who remember Bude during the ration years 1939 to 1954 — all of them said "Oh, and when the American's Came!" The social history stories are fascinating. Bude at War is dedicated to all those who sacrificed so much for the freedom and liberty we have today. 
"It was a huge success in 2017 and we plan to commemorate 80- years since the Americans came to Bude spectacularly.
"Our strap line is to deliver a 'Thought Provoking history, heritage, commemorative and educational weekend.' We are tackling issues such as The Black American soldiers and their history, also representation of German ground troops who had no choice but to fight. Our ethos is heritage, diversity, economic sustainability, pride in our community history. This event if for Bude community."
The community had plenty to get involved with, including a vintage vehicle show, a war memorabilia exhibition, GI dance, and a cliff climb. However despite all the fun Clair also emphasised the educational importance of the weekend's events.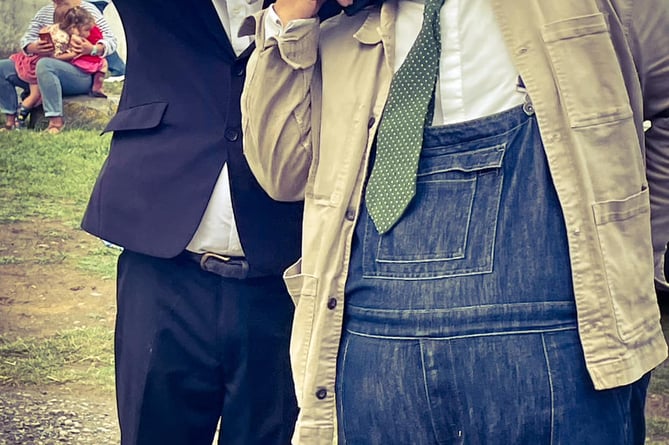 Some familiar looking entertainment from the weekend's event
(Contributed)
She said: "None of us today have the liberty and freedom we are afforded without so many who fought against tyranny. The shocking thing is the repetition. In spite of philosophers like Georges Santyana who said 'Those who do not remember the past are destined to repeat it'. 
"Here we are in 2023, in the same economic crisis as 1946; recovering from a world disaster where social behaviour mirrored that of WWII and now the united nations fighting for freedom for the Ukraine against a tyrant.  The similarities are shocking."