August 28, 1906. A silverware maker of Dutch descent, Ernest Betjemann, and his wife, Mabel Dawson, are greeted by the arrival of a baby boy. With this birth being in London, and the family's business being located at 34-42 Pentonville Road, selling ornamental household furniture and gadgets popular with the Victorian era, you'd be forgiven for wondering what on earth this seemingly incongruous birth has to do with Cornwall.
Their arrival would start off as a child of London. However, by the end of his life, he would very much be an adopted son of Cornwall, not least with his choice of being laid to rest in a place that meant so much to him, at Trebetherick.
That baby boy would go on to be a Poet Laureate, architectural campaigner, and television figure. You probably know him better as Sir John Betjeman.
Betjeman's love affair with Cornwall began as a toddler when in 1908, the family (which changed their surname to Betjeman to seem less Germanic at the start of World War I) began taking holidays by train. It was these holidays that formed his interest in railways for Sir Betjeman as well as becoming his second home-from-home, before later becoming his home.
In his blank-verse autobiography, Summoned by Bells, he describes the childhood holidays his family took to Cornwall.
In part of it, he describes the journeys taken to Cornwall, before later going on to tell the tale of stays on holiday and the experiences he enjoyed while there.
"
He wrote: "Tea time shows the small fields waiting,

Every thorn hedge straining in land before the South West gale.

Can it really be that this same carriage came from Waterloo?"

"On Wadebridge Station, what a breath of sea, scented the Camel Valley.

Cornish air, soft Cornish rains, and silence after steam.

As out of Derry's stable, came the brake to drag us up those long, familiar hills,

Past haunted woods and oil lit farms, along to far Trebetherick, by the sounding sea."
John Betjeman, Summoned by Bells
The 1976 televised BBC programme named after his autobiography, Summoned by Bells, saw Betjeman recite the collection of poems about his life while exploring the places and scenes which defined him. Indeed, Cornwall played such a formative part in Betjeman's life that his autobiography had two chapters dedicated solely to it – Chapter IV: Cornwall in Childhood and Chapter VIII: Cornwall in Adolescence.
As well as the poetry celebrating Cornwall, Betjeman also contributed pieces to the Shell Guides, an early 1930s guide for motorists about different places in the United Kingdom. Betjeman wrote the text for two of the 13 which had been published prior to World War II, the book on Cornwall in 1934, and Devon in 1936.
Betjeman's post-World War II career would see him travel far and wide, not only writing poetry but submitting writings and broadcasting about a number of subjects. Most famously, he became a founder member of the Victorian Society in 1958, spearheading the unsuccessful campaign to save the Euston Arch and in 1973 broadcast a programme about 'Metro-land' – the architecture built around the Metropolitan line.
However, away from the increasingly high-profile career that Betjeman enjoyed, it was Cornwall he always returned to.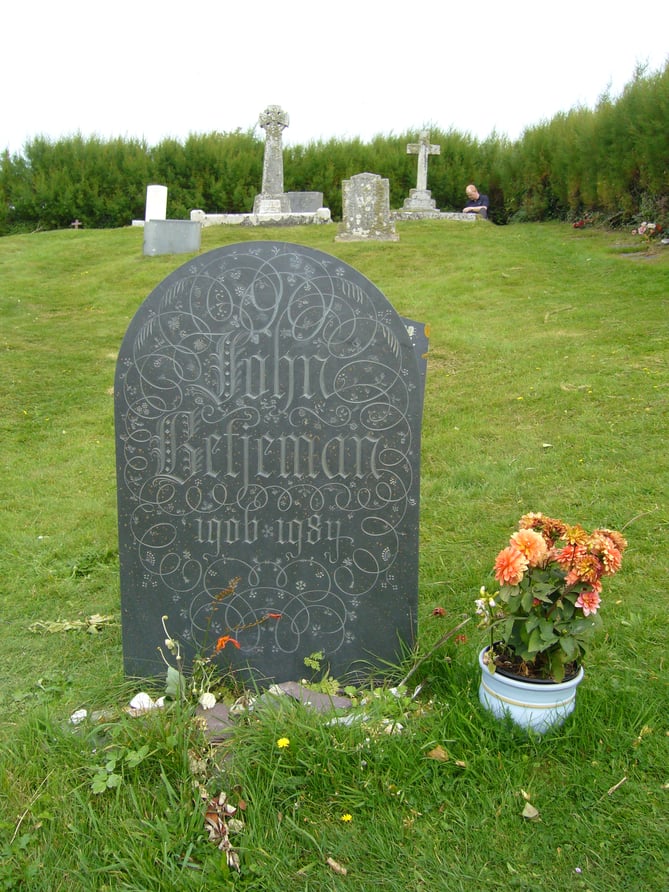 John Betjeman's grave stone at St Enodoc Church
(Tom Oates/Creative Commons )
In his last decade alive, as old age and the impact of Parkinson's' disease affected his health, it was in Cornwall he would retreat, at a home in Trebetherick called Treen. It was here he would die, aged 77 on May 19, 1984.
His decorative headstone and grave lie to this day in the nearby St Enodoc Church. While the end was a far cry from the metropolitan beginnings of his life, Cornwall was always the place Betjeman truly called home.