Among the many curiosities that greet visitors to the Bodmin and Wenford Railway are two smaller-than-usual trains.
We're not talking about the Class 08 shunters which help manoeuvre things into position, but rather two, lime green, 0-4-0 steam saddle tanks by the name of Alfred and Judy.
These aren't the sort of trains you'd see on the mainline back in the day, hauling passengers to far-flung places they could only dream of before the advent of rail, or indeed, breaking speed records of the time like the recently visiting Flying Scotsman.
Indeed, the working lives of these two locomotives were at first glimpse, to the ordinary Joe, fairly insignificant for these two trains spent their working lives hauling china clay wagons for the English China Clays.
But what makes these two particular locomotives, very significant is they were the inspiration for two of the characters in Reverend Wilbert Awdry's Railway Series books, best known for Thomas the Tank Engine. Do you remember the mischievous, cheeky clay wagon trains Bill and Ben?
This is the story of the two locomotives which became Bill and Ben in the books and can be seen from time to time working locomotives at Bodmin and Wenford Railway to this day.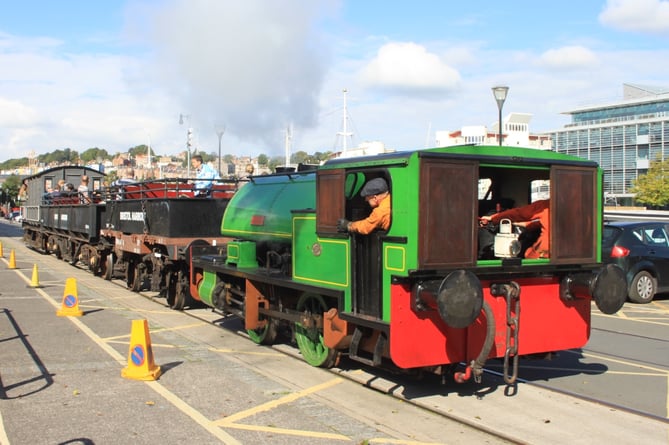 Par Harbour 0-4-0ST Judy propels her train along Wapping Wharf while on load to the Bristol Harbour Railway.
(Geof Sheppard/Creative Commons)
Judy is the elder of the two W G Bagnall 0-4-0 locomotives that comprised Alfred and Judy, having been built in 1937 and issued with the works number 2572.
Originally delivered without a name, she was later christened Judy to keep in with the 'Punch and Judy' theme of naming at the time, with an earlier locomotive, named 'Punch' having been built in 1916.
The reason she arrived without a nameplate upon delivery lies in a miscommunication between her makers and her soon-to-be owners. Originally, she was intended to be called 'Chough', after the famous Cornish Chough but this request had been misinterpreted by Bagnalls as 'Cough'. Thinking it was a strange name for a train, she was sent to Par upon construction without a nameplate – although was not named Judy until 1960.
It cost £1,200 to build her and upon delivery, weighed 16 tons. Judy was designed as a locomotive that was only 90 inches high and this was achieved by dropping the cab floor down between the mainframes of the locomotive, and with wheels just five feet apart, she was able to negotiate the sharp curve near to Par Moors clay dries.
Judy's time in service with the ECC (English China Clays) came in 1969 when she was withdrawn from service as the cost of boiler repairs could not be justified given the lack of traffic now being handled at Par. After withdrawal, she was kept in the engine shed until 1978, when she was moved to the china clay museum at Wheal Martyn to be displayed as a static exhibit.
It was here that Judy would remain until 2002 when she was handed into the care of the Cornish Steam Locomotive Preservation Society (CSLPS).
Volunteers at her new home at Bodmin and Wenford Railway set about bringing Judy back to her former glory, with repairs including damage to the axle journals caused by water, a partial replacement of a firebox, and removal of asbestos by a specialist, but it was in 2008, nearly 40 years after she last operated, Judy came into life again on October 31 of that year. She had also been fitted with a vacuum brake in order to operate passenger trains and entered full service in April 2009.
After a heavy overhaul lasting three years after the expiry of her boiler ticket, Judy returned to operation with Bodmin and Wenford Railway in December 2022.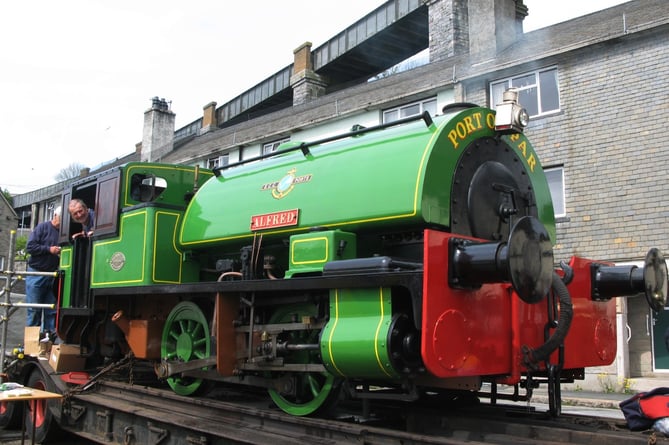 Alfred on display by the Royal Albert Bridge
(Geof Sheppard/Creative Commons)
Alfred is the junior of the two locomotives, having been built 16 years later than Judy. While visually the locomotives seem identical despite their ages, there were a number of small functional differences between the two, with Alfred also weighing 250kg more than his sister's locomotive.
His years of service were far shorter than his sister, mainly due to the decline in mineral traffic to Par Harbour, which was part of the reason Judy had been withdrawn nine years earlier, although, Alfred served between 1953 and 1978.
Although, in comparison to his sister locomotive, Alfred was considerably more well-travelled; while Judy spent her entire working life at Par, Alfred had spent spells working at Ponts Mill working in the china clay drier there while the regular locomotive was being serviced; this movement between Par Harbour and Ponts Mill was made under its own power over British Railway tracks, an unusual occurrence at the time.
Like Judy, Alfred was rescued in 1978 after his withdrawal but instead of becoming an exhibit, Alfred's next home was with the Cornish Steam Locomotive Preservation Society's then-headquarters in Bugle, before being acquired by Bodmin and Wenford Railway when the CSLPS had to move from Bugle to Bodmin.
For about ten years, Alfred was repainted yellow in reference to the connection between the locomotive and the characters from the Railway Series of books they had inspired, for this was the colour of Bill and Ben.
More recent years have seen Alfred on tour in addition to his work at Bodmin and Wenford; in 1994 he was taken to Exeter for a rail fair celebrating the 150th anniversary of railways in the city, visited an open day at St Blazey Depot in August 2002 and in May 2009, spent time in Saltash as part of 150th-anniversary celebrations at the Royal Albert Bridge.
He is currently out of service at Bodmin and Wenford Railway, awaiting an overhaul from the volunteers who work there.
Bill and Ben: The Thomas the Tank Engine connection
After the Reverend Wilbert Audry visited the Port of Par in 1966, he soon wrote Mainline Engines, which was the 21st volume of the Railway Series and the first to feature Bill and Ben, inspired by Alfred and Judy.
The two characters liked to play pranks and cause mischief with the other characters in the books and also appeared in the Thomas the Tank Engine and Friends television series, which was based on the books.