Fundraising company Omaze has announced it has raised £1,000,000 for a cancer charity as it reveals the winner of its latest house draw.
Omaze, who run regular Million Pound House Draws in the UK, have raised the money for Blood Cancer UK through the latest draw.
The company revealed today that family man Uttam Parmar (58) has won the Omaze Million Pound House Draw, receiving the keys to a £3,000,000 house with views over the Camel Estuary.
Uttam, who said he has holidayed in Cornwall for years, had entered every previous Omaze Draw since the first UK draw in 2020. As part of the prize, he has also received £50,000 in cash.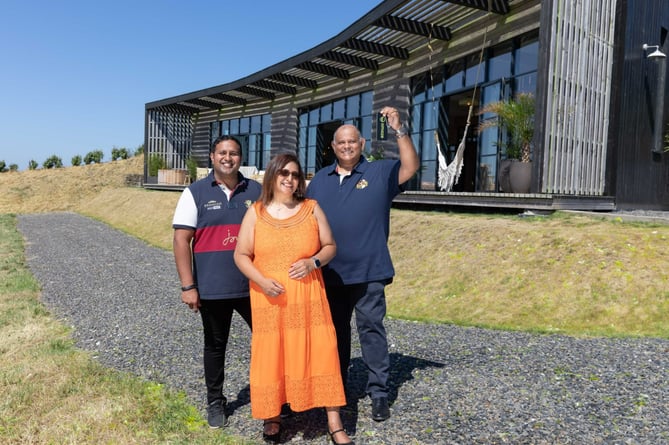 Uttam, Raki and Aaron at the £3m house.
(Omaze )
Uttam bought his winning entry in July for £25 and was at the hospital when he was first contacted by Omaze.
Uttam commented: "When Omaze called to tell us we'd won a prize, we were actually at the hospital.
"We were so excited that we might have won the grand prize, we called our son Aaron to see if the winning entry code matched ours - when he triple checked the numbers matched, we must've burst his eardrums screaming down the phone!
"Although, we still didn't believe we'd won until we got back to our house and Omaze told us in person.
"I've entered every Omaze Draw since they started, so patience really is a virtue, as I've now won my own piece of paradise - this house is definitely my favourite one they've offered!
"I've always considered myself a lucky person, firstly because of my wonderful family – but I've also won a few bits such as a TV and coffee table – which I was pretty happy with to be honest - I never dreamed I'd win anything as extravagant as a three-million-pound-house though!
"We've holidayed in Cornwall over the years and always thought it would be incredible to have a place here - and now we do - we're still pinching ourselves.
"We have a large extended family – so no doubt they'll all be asking to have their next birthday parties here!
"We're not sure if we'll rent, sell or live in it yet – it's the best dilemma we've ever had! Whatever we decide, it's a life changing win for the whole family!"
The money raised for Blood Cancer UK will be used to fund research projects including a clinical fellowship for five years, which allows a scientist to set up their own lab and embark on a new research area.
Gemma Peters, Blood Cancer UK's Chief Executive, said: "We are so grateful to Omaze for choosing us as its charity partner for the Cornwall house draw.
"Blood cancer is the UK's third biggest cancer killer, and the money this partnership has raised will help us to give support and information to people who are affected by blood cancer – as well as fund lifesaving research that will bring forward the day when blood cancer is finally beaten.
"The partnership has been a fantastic way to raise awareness of blood cancer and its symptoms. Too many people with blood cancer are not diagnosed quickly enough, which results in poorer outcomes so by making sure more people know about the symptoms, we could save lives."
James Oakes, Chief International Officer at Omaze said: "We're delighted that Uttam has won his dream home - and was able to contribute to this fantastic £1,000,000 raise for Blood Cancer UK in the process.
"Omaze is a win-win for both charities and entrants. By offering incredible prizes, like this stunning house in Cornwall, we give people the chance to win the house of their dreams, while also introducing charities to audiences they wouldn't usually be able to reach.
"This method of fundraising is helping to make a big difference to good causes across the UK."
This was the ninth Omaze Million-Pound House Draw and brings the total raised for charities in the UK to £6,750,000.
Draw entries are currently open for the next Omaze Million-Pound House Draw, a £2,500,000 beachfront property in Kent, raising funds for Global's Make Some Noise.