The announcement that £50-million of levelling up funding for Cornwall will be spent on a "mid-Cornwall metro" railway project has been criticised by the North Cornwall Liberal Democrats.
They say the Government "simply aren't interested" in helping North Cornwall, a claim denied by the Conservatives, who say that North Cornwall has benefitted from multiple rounds of funding.
The announced project will see alterations and building works undertaken to create a non-stop commuter service linking Newquay to Truro and Falmouth, where presently, a passenger wishing to take that route would have to change trains at both Truro and Par.
However, the news that no direct funding in this round of levelling up funding was criticised by the North Cornwall Liberal Democrats' Prospective Parliamentary Candidate (PPC) for the area, Phil Hutty.
He said: "It is simply depressing to see that once again North Cornwall has been forgotten, by a Government keen to shove money at so-called red wall seats at the expense of Cornwall. We were promised better with Brexit, so I was hoping with a full set of Cornish MPs being Tories and a Tory administration at County Hall (Cornwall Council), we would at least get what we were promised, but clearly not.
"It seems to me that the Tories simply aren't interested in helping a region which needs so much. Is it because we are rural, or is it because we don't matter?"
The claims by the Lib Dems were refuted by North Cornwall's Conservative MP, Scott Mann, who said that Cornwall had benefitted from hundreds of millions of pounds in funding, something which he says would not have happened without the campaigning effort of Cornwall's MPs.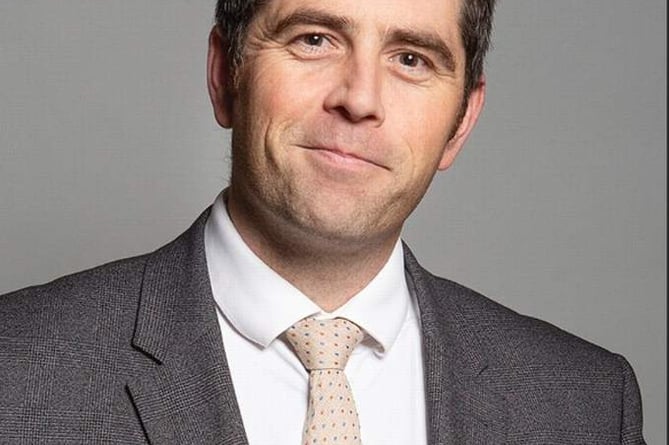 Scott Mann hit back at the criticism and said all improvements should be celebrated.
(David Woolfall )
He said: "Cornwall has received unprecedented investment thanks to this government and the levelling up agenda. Despite the economic challenges posed by Covid-19, hundreds of millions of pounds have been allocated across Cornwall to help drive economic growth and improve communities. This is money that we would not be seeing if it wasn't for this government and the campaigning efforts of Cornish MPs.
"My constituency, North Cornwall, is set to benefit heavily from the UK Shared Prosperity Fund and it's no coincidence that the fund's first allocation was in Bodmin. This will be money that goes to small and medium-sized organisations across North Cornwall, which were previously excluded by EU-administered funding that primarily targeted businesses, large organisations and favoured the west of Cornwall.
"Similarly, whilst not part of the 'Levelling Up Fund', North Cornwall has seen millions of pounds to expand local NHS services – including a new Community Diagnostic Centre, CT, Ultrasound and MRI scanners in Bodmin, and a new Urgent Treatment Centre opening soon.
Mr Mann also defended his record in Government and said all improvements should be celebrated, adding: "I am proud of our record. Improvements to public services in Cornwall are something to be celebrated, not sniffed at. Party politics should not get in the way of delivering positive change for the people of Cornwall."