'Please only call 999 in a real emergency'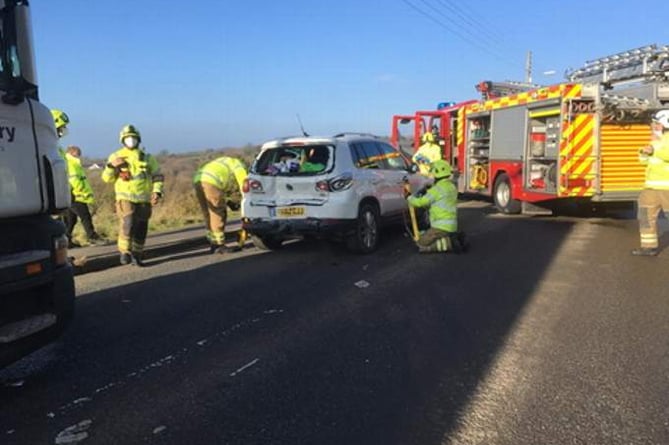 Emergency services at the scene of the accident
Subscribe newsletter
Subscribe to our email and get updates right in your inbox.
A SPECIALIST nurse who lives in South East Cornwall and works at Plymouth's Derriford Hospital has highlighted the importance of drivers keeping to speed limits, and only calling the ambulance service in real emergencies, after she was involved in a road traffic accident outside her own home.
Although the quick actions of neighbours, family members and passers-by meant the other emergency services were quickly on the scene, such are the pressures on the Cornwall Ambulance Service at the present time that a unit was unable to attend even after two hours.
On the day of the accident, Caroline Whitton, who works at Derriford as a cystic fibrosis specialist nurse and is the mother of three young boys aged three, six and 11, had just popped out in her car from her Launceston Road, Callington, home to fetch some food items from a bakery in the town centre.
She and the rest of the family were looking forward to going to see the Christmas lights at the Eden Project later that day while also celebrating her sister Sue's birthday.
Her home is located on the long, straight stretch of road leading out of Callington towards Kelly Bray, and just near her house the speed limit briefly changes from 30mph to 40mph – though unfortunately, she says, many drivers choose to exceed both speed limits.
In the incident, which occurred on Saturday, December 18, at 11.30am, Caroline had just stopped on the stretch of road so she could allow some vehicles coming the other way to pass before she turned right into her drive, when an articulated lorry ploughed into the back of the car and shunted her vehicle forward.
She says that in hindsight she is quite glad of that as it meant her young boys couldn't see her through her home's windows when she became trapped in the car after the impact. Such was the shock of the accident that she didn't realise at the time that she had hit her head on the windscreen and had several cuts along her hairline.
When people rushed to help they initially couldn't get the car door open to reach her, so the fire service was called and three crews attended. By that time the car door had at last been opened – and then couldn't be shut again.
Caroline said that the police and fire crews who attended were marvellous but unfortunately the ambulance service is currently so inundated and under such pressure during the COVID pandemic that in the end, after two hours of waiting, one of the fire crew, who was fortunately Emergency Care Assistant (ECA) trained so that he could assist paramedics, assessed her condition and received permission for her family to take her to A&E.
As she wrote afterwards on social media: "Today I waited for an ambulance…An ambulance that never came, hit (when stationary waiting to turn into my drive) by an articulated lorry, shunted forward 15 metres and initially unable to open my door.
"The scene was attended by three amazing fire crews and multiple fantastic police officers. With me suffering from neck and back discomfort, the crews waited for ambulance clearance to move me but our poor ambulance service is so stretched they couldn't even allocate a unit two hours after the accident. With the main road still closed, we re-assessed with a paramedic practitioner over the phone and I was cleared to get out myself and my family to take me to A&E."
When Caroline spoke to the Cornish Times just before Christmas, she said that she was still suffering from some mild concussion in the wake of the accident, together with continuing whiplash/neck and back pain, headaches and nausea.
She said: "I'm really keen this doesn't paint the hospital or ambulance service in a bad light, and is more about highlighting the correct services for people to access. Our Trust does an amazing job at supporting the staff, who are all doing a fantastic job and I'd hate for them to feel it's in vain."
She said her reason for highlighting what had happened was to emphasise to drivers the importance of heeding and obeying speed limits, as accidents can occur on even straight stretches of road – and there are many roads in Cornwall that are far from straight.
She also believes that having a 40mph limit in her residential area, however brief, is not safe – there has been the possibility mooted in the past of making the entire stretch 30mph but this so far hasn't happened.
She said she also wanted to emphasise that especially at the current time, when NHS services are under such pressure due to the impact of the pandemic, one reason why the ambulance service is under such strain is due to being called out to incidents that are not actual emergencies and which could be resolved by calling the NHS helpline on 111 or by speaking to a pharmacist or GP.
She has provided a link to an advice article which, though coming from the NHS in Devon, is just as applicable to Cornwall too: devonccg.nhs.uk/news/get-nhs-advice-quickly-ahead-of-winter-like-no-other
Caroline added that she in no way wanted to criticise the ambulance service, as she fully understood the pressures it is under.
A South West Ambulance Service spokesperson said: "We are sorry that the waits for ambulances to arrive are longer than we would expect, and we apologise for this wholeheartedly.
"The ambulance service is extremely busy and we continue to prioritise the most clinically urgent cases.
"We would like to take this opportunity to thank the public for their patience and understanding, and our staff for their focus, continued commitment and hard work."
Comments
To leave a comment you need to create an account. |
All comments 0