Local road is a dangerous route for young drivers
Thursday 20th May 2021 7:30 am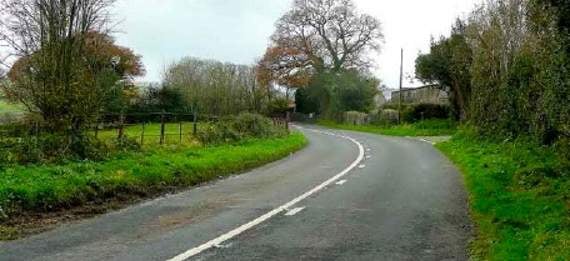 THE A388 between Launceston and Lifton is one of the most dangerous roads for young drivers. Picture: Jonathan Billinger/A388 at Polson
Subscribe newsletter
Subscribe to our email and get updates right in your inbox.
THE A388 between Launceston in Cornwall and Lifton, in Devon, is one of the most dangerous rural roads for young drivers according to a new study.
Overall, the research shows young drivers (aged 17-to-24) are over-represented in rural crashes by 9%, relative to all roads, with the over-representation highest for those aged 17 (27%) and decreasing with every subsequent year.
Young drivers were also shown to face a higher risk of death (2%) or serious injury (15.2%) when involved in a crash on a rural road compared to an urban road (0.6%; 11.3%).
The A388 Launceston to Lifton road comes fourth when looking at the percentage of all crashes, after roads in County Durham, West Lothian and Gloucestershire.
There were 17 collisions on the A388 between 2013 and 2018 and 53% (nine) involved young drivers.
When looking at collision density, roads in Kent, Surrey and Hertfordshire top the list.
The study is launched by The AA Charitable Trust following funding from The Road Safety Trust. The campaign will help raise awareness that 71% of fatal crashes involving young drivers occur on rural roads.
The proportion of crashes on rural roads on Sundays is 24% higher for young drivers than it is for other drivers. Young drivers are also at a higher risk of a single vehicle collision on rural roads.
The dataset behind the research covers six years of crash data (2013-2018). Analysts at Agilysis and the Road Safety Foundation studied 74,919 young drivers involved in crashes of all injury severities on a rural road.
The results sit behind an interactive map (AA Young Rural Drivers (arcgis.com), which shows the relative risk of collisions involving young drivers on rural routes across the country. Map users can see the most dangerous rural roads for young drivers by collision density and as a percentage of all crashes indicating the relative risks young drivers face on these roads compared to other drivers.
Data will be shared with relevant and interested local authorities to help highlight those roads which appear to pose the greatest risk.
Edmund King, AA Charitable Trust director, said: "This ground-breaking analysis shows, for the first time, the most dangerous rural roads for young drivers as well as an in-depth study of contributory factors involved in those crashes.
"Many young drivers and indeed parents are unaware that rural roads pose a specific and significant risk to young drivers and potentially are much more dangerous than motorways or urban roads. 71% of fatal car crashes involving young drivers take place on rural roads. The research should help target driver education at the times and places young drivers are most at risk.
"Our data clearly shows that the rural road risk is highest for the youngest drivers on our roads and decreases with each year of age. This is a clear sign greater education and exposure to rural roads helps alleviate the risks they pose.
"This is just the first stage in what we plan to be an ongoing campaign to really improve the education of young drivers on rural roads."
Transport Secretary Grant Shapps said: "Rural roads are often narrow with blind bends, which is why it's essential we raise awareness among young people on how to drive safely on them.
"I strongly support the AA in their work to improve the education of drivers."
Sally Lines OBE, chief executive from The Road Safety Trust, said: "We are pleased to have funded such informative and insightful research. It is important to be able to clearly identify risks to young drivers on rural roads and take steps forward to address those, whether it is through education, infrastructure improvements, or both.
"We want to make UK roads safer for all road users and these findings provide the platform to be able to help reduce the risk of death or serious injury to young drivers."
Comments
To leave a comment you need to create an account. |
All comments 0