CELEBRATING its heritage, Bude is holding the biggest commemoration to allied forces for D-Day this weekend on September 15, 16 and 17.
A huge weekend is planned including The Enigma Machine from Bletchley Park; one of the biggest D-Day beach assault re-enactments in the country; GI dance, commemoration service, living history groups, military vehicles, lindy hop, education trails,  American Baseball, and much more.
This event came about after interviewing 40 local people who remember Bude during the ration years 1939-1954 — all of them said:  "Oh, and when the American's came!"
Organiser Clair Roberts said: "The social history stories are fascinating. Bude at War is dedicated to all those who sacrificed so much for the freedom and liberty we have today. It was a huge success in 2017 and we plan to commemorate 80-years since the Americans came to Bude spectacularly.
"Our strap line is to deliver a 'Thought Provoking history, heritage, commemorative and educational weekend.' We are tackling issues such as the Black American soldiers and their history, also representation of German ground troops who had no choice but to fight. Our ethos is heritage, diversity, economic sustainability, pride in our community history. This event if for the Bude community.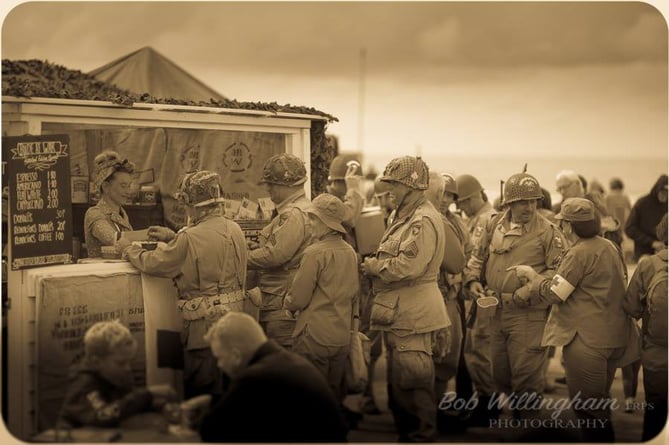 Like stepping back in time during last year's Bude at War event
(Bob Willingham)
"There really is so much happening from the Friday to the Sunday afternoon. It is about our community, the sacrifices made. None of us today have the liberty and freedom we are afforded without so many who fought against tyranny. The shocking thing is the repetition. In spite of philosophers like Georges Santyana who said 'Those how do not remember the past are destined to repeat it'. Here we are…2023, same economic crisis as 1946; recovering from a world disaster where social behaviour mirrored that of WWII and now the united nations fighting for freedom for the Ukraine against a tyrant.  The similarities are shocking."
Clair concluded: "The WWII history in Bude is rich, the social history narrative explaining how our life here was very different from those in other parts of the country."