Bowel cancer is Britain's second biggest cause of cancer-related death - but only ranks fourth for cancer diagnosis.
That means a higher proportion of those who are diagnosed with bowel cancer do not survive, when compared to other cancers.
And that could be because people are too embarrassed to seek medical help when symptoms emerge – or think it's too messy to take the free NHS bowel cancer test.
Bowel Cancer Westis your local charity raising awareness of the disease's symptoms, funding research and training to beat bowel cancer, and supporting patients and their families.
And we want to cut the cringe around bums and poos – because taking the test could save your life!
The West Country Challenge
Bowel cancer affects people of all ages but is most commonly associated with people over the age of 55. In the South West, one in three people knows someone with bowel cancer.
Everyone aged 60 to 74 years who is registered with a GP and lives in England is automatically sent an NHS bowel cancer screening kit every 2 years.
Could you support the work of Bowel Cancer West?
 To donate £5 text BOWEL to 70580
The programme is expanding so that everyone aged 50 to 59 years will be eligible for screening. This is happening gradually over 4 years and started in April 2021 with 56 year olds.
Make sure your GP practice has your correct address so your kit is posted to the right place.
If you're 75 or over, you can ask for a kit every 2 years by phoning the free bowel cancer screening helpline on 0800 707 60 60.
If you're worried about a family history of bowel cancer or have any symptoms, speak to a GP for advice.
Symptoms of bowel cancer may include:
changes in your poo, such as having softer poo, diarrhoea or constipation that is not usual for you
needing to poo more or less often than usual for you
blood in your poo, which may look red or black
bleeding from your bottom
feeling very tired for no reason
Discussing your bowel habits with a GP can be a difficult subject, but you really shouldn't feel embarrassed.  
If you get sent an NHS test kit, don't sit on it!
(Bowel Cancer West)
April is bowel cancer awareness month
WE FUND RESEARCH conducted at leading univerisites to find causes and cures,.
WE PROVIDE TRAINING for doctors and nurses to ensure they provide patients with the best possible care.
OUR BUDDY SCHEME offers a friendly support network for patients, their families, and survivors.
OUR SHOP in Springfield Road, Elburton, nr Plymouth, is the friendliest charity shop in the South West.We are always happy to take donations – maybe you'd like to volunteer as a helper?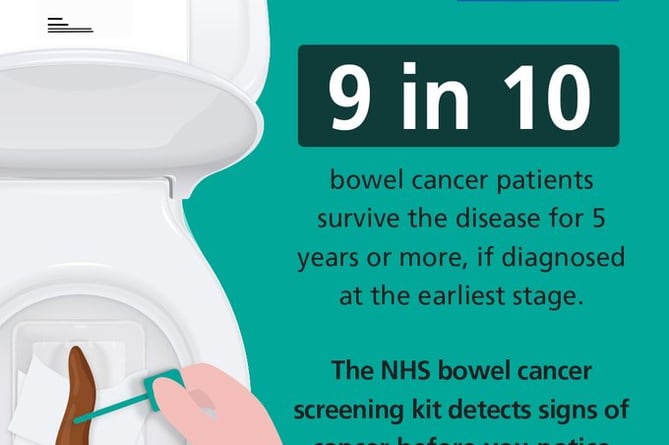 NHS bowel cancer campaign
(NHS)