Doors open for people to light a candle and leave a message
Tuesday 20th September 2022 4:00 pm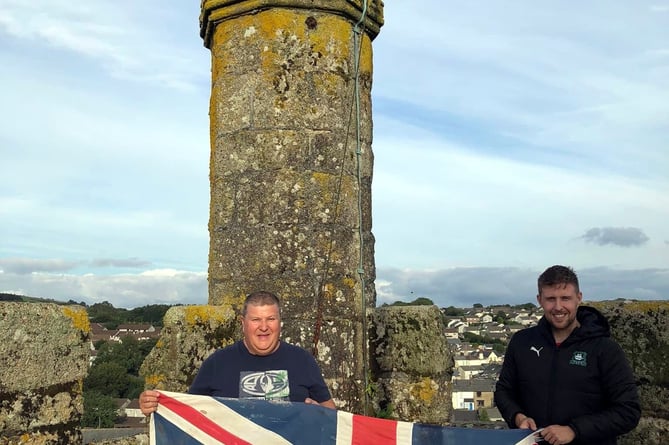 Thanks were expressed to Matthew and Richard Sykes for loaning their flag (from the Navy) to be flown over St Mary's. It was raised to full mast following the Proclamation then returned to half mast
()
Subscribe newsletter
Subscribe to our email and get updates right in your inbox.
In her first Christmas Broadcast in 1952, Her Majesty Queen Elizabeth II asked the people of the Commonwealth and Empire to pray for her as she prepared to dedicate herself to their service.
At 90, she looked back and gave thanks for those prayers and the faithfulness of God. She has been our longest reigning Monarch who has brought the country together through many turbulent times. Now there is to be a time of national grief with flags at half mast and bells tolled across the land.
At St Mary's (Callington) and our churches across this region we have opened up our doors for people to come and sit, pray, light a candle and leave messages in books of condolence at this sad time. When I heard the single muffled Bell ringing out today at St Marys, it affected me emotionally. I'd seen this emotion already in my family and now it just rolled in waves over me as I drew nearer. I had to go and sit in tower with the bell ringers and felt the weight of the message they were ringing out.
People have flocked to pay their respects and to give thanks for her service. It was a privilege to hear people's recollections of their encounters with our late Queen and how this was such a moment for us all to stop and take time out. Some even told me they didn't know what to do and found themselves standing outside the church late last night and somehow found that connection comforting .
It's at times like these we are moved to follow Her Majesty's example and trust in Christ; who was the cornerstone of her faith even in the face of wars, pandemics, and global crisis.
Six months Before her coronation she asked the people of the United Kingdom & Commonwealth to: "Pray that God may give me the wisdom and strength to carry out the solemn promises I shall be making, and that I may faithfully serve Him and you, all the days of my life."
This is model prayer for us all to pray for our new King who is to ascend the throne, for our nation and for ourselves. Queen Elizabeth II's faith speaks to us beyond the grave. So, let's pray for her family and those who miss her the most and let's ask God to turn our hearts towards Him at this sad time.
On Sunday we will be holding various services through the Callington Cluster; as will our bothers and sisters in other precious denominations in the surrounding towns and villages. Specific details of the five Churches I minister among can be found on our what's on and Calendar pages on our website: www.callingtoncluster.org.uk
Most of our Sunday services will be including various Prayers and liturgy especially written for this time. We will be taking a moment to give space to reflect, to mourn and give thanks for our dear late Queen.  Please feel free to come pray for her family in their deep personal sadness at this time.
Comments
To leave a comment you need to create an account. |
All comments 0