Davidstow Rave prevention discussed by stakeholders [Post exclusive]
In a Post exclusive we hear from key stakeholders in the area about their plans to prevent this type of event in the future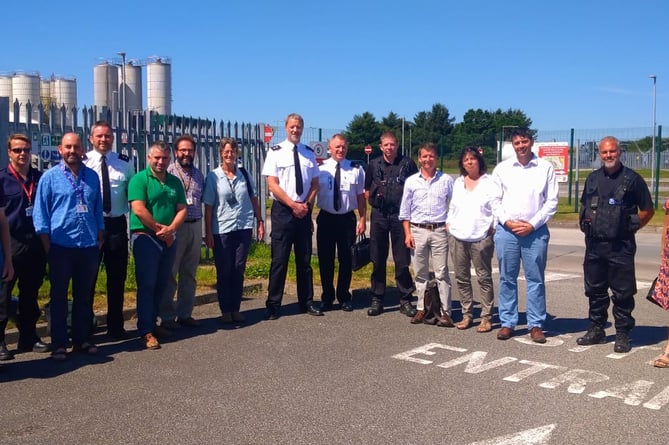 A meeting of stakeholders was held to discuss the recent Davistow Rave and ways future events of this sort can be prevented. In attendance were MP for North Cornwall Scott Mann, Cornwall Councillors Rob Rotchell and Barry Jordan, and representatives from Forestry England, Devon & Cornwall Police, SW Lakes Trust and the Environment Agency
(Tindle )
Subscribe newsletter
Subscribe to our email and get updates right in your inbox.
ACTION is being taken by key stakeholders to prevent illegal gatherings like the recent Davidstow Rave reoccurring.
'Ravidstow', as it became affectionately known, was a hot topic online and drew in crowds from far and wide.
Thousands of party goers attended an illegal rave on Davidstow moors over the Jubilee weekend, leading to a police presence being requested.
Work is now underway to establish how this type of event can be prevented in the future Community stakeholders including Conservative MP for North Cornwall Scott Mann and local Cornwall Council representatives Cllrs Rob Rotchell and Barry Jordan met with Devon & Cornwall Police at the Davidstow creamery to discuss last month's disruptive unlicensed music event. The gathering was of great concern to local people and much of the discussion focused on preventing similar gatherings in future. The Police also gave a briefing on how their work proceeded over the course of the previous bank holiday and what action was taken. Mr Mann said: "This was an important meeting which gave Devon & Cornwall Police the opportunity to debrief and answer questions from stakeholders and elected members, giving us a better understanding of what occurred and why. I have several action points from the meeting which I will be taking back to Westminster for the attention of the Minister. The Forestry Commission and residents have also put several forward ideas to stop unlicensed events on Davidstow in the future." Cornwall Councillor for Tintagel Barry Jordan agreed that the meeting had been productive and very informative, adding: "The de-brief was in itself very informative, and it brought to light a lot of issues that we had not been aware of, the stress the police were under with all the other activities of the Jubilee weekend, the fight they had to control the situation and now we know why the roads were closed it justifies their decision. "With only a small contingent of officers available the UME was coordinated in such a way to allow them free reign to do what they wanted, and I now believe that the Police acted as best they could in the situation."
He went on to thank those who had been part of the clear up work, returning the area to its former glory: "It is good to know that actions have been taken to try and prevent a UME in future and that the Forestry Commission have cleared up all the mess and the woods are again open for the public."
Devon & Cornwall Police are keen to engage with the local community and ask that any information or intelligence relating to future events is passed on to them via DC Alert. Devon and Cornwall Alert is a two-way community messaging system operated by Devon and Cornwall Police. The system helps police to connect with their communities, it tells people what is happening in their area and allows them to respond directly with any information. Inspector Dan Harvey said: "It was a fantastic opportunity for all those who support and work with the local community to come together and consider ways rave organisers can be deterred from coming to the area in future. We understand how these events can cause huge disruption to the local community – as well as damage to the environment. This meeting allowed us the opportunity to explain policing decisions and tactics with our partners and look for opportunities to work more closely together.  As a result of this multi-agency cooperation, we are now in a much stronger position to tackle any future attempts to hold similar events. "We are keeping a close eye on reports of planned raves – also called unlicensed music events - and we are asking the public to be vigilant in areas that have a history of raves, particularly over Bank Holiday weekends. If you see an unusual increase in vehicles, or vehicles carrying sound equipment, call us on 101 as soon as possible." To sign up to DC Alert visit alerts.dc.police.uk
Comments
To leave a comment you need to create an account. |
All comments 0