Children's books show you're never too young to care for the environment
Wednesday 24th January 2018 1:18 pm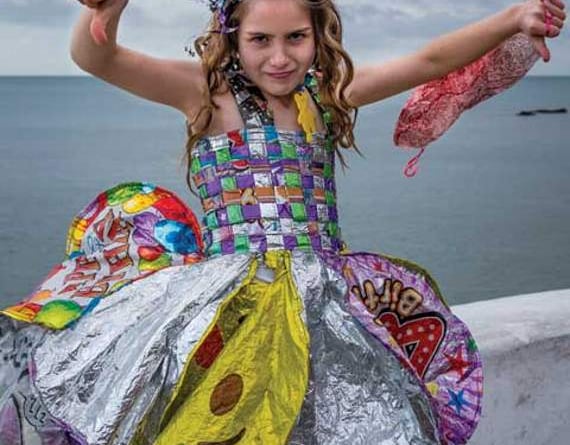 The dress, made from '99 dead balloons.' The image was captured by Symages Photography in Bude.
Subscribe newsletter
Subscribe to our email and get updates right in your inbox.
A MOTHER of four and former teacher has written a series of children's picture books to show you are never too young to make a change.
Ellie Jackson noticed the impact a visit to the turtle hospital in Townsville, Australia, had on her young children, and how enthusiastic they subsequently were to pick up rubbish on the beach.
As a result, Ellie was inspired to write the series of books, called Wild Tribe Heroes, aimed at two to eleven-year-olds.
The books — which include Duffy's Lucky Escape and Marli's Tangled Tales — highlight the dangers to wildlife from plastic in the oceans.
Ellie said: "The first book, Duffy's Lucky Escape, is based on a true story of our time spent living on an island in the Great Barrier Reef where we witnessed the first hand effects of plastic on turtles.
"The turtle in my story is rescued, rehabilitated and then released after suffering from the effects of eating too much plastic."
The second book, Marli's Tangled Tale is based on the true story of a puffin who was rescued, rehabilitated and released after getting entangled in the ocean in several balloons.
Ellie is originally from Brighton but spent nine years living in Australia.
The family recently moved back to the UK and currently live in Looe.
The illustrator of the second book, Laura Callwood, lives in Launceston.
Ellie is currently working with several Cornish marine charities, including Surfers Against Sewage, #2MinuteBeachClean and Fathoms Free, all of which are supporting the books.
She has also been able to get the message out through appearances on BBC Radio Cornwall and BBC Spotlight, as well as doing readings at schools, museums and literary festivals.
Ellie's third book will be released at the Porthcurno Festival in April. It's about a seal who gets trapped in ghost fishing nets.
She said: "There is a huge growing national and international consciousness about the dangers of ocean plastics, balloon releases and ghost fishing gear and it is very important to teach children about these devastating global issues without overwhelming them or shocking them with images of plastic in animals' stomachs or trapped in nets or plastic.
"The Wild Tribe Heroes series guide young readers through the issues in a fun and friendly way together with further information on how children can start to make changes to their own and their families' lives."
Both of the books have been used in local schools as a springboard into developing these issues further with pupils.
Ellie added: "The teachers have followed up the enthusiasm by the children for the books with beach cleans, literacy work in the classroom and now the childen are using their persuasive writing skills to write letters to local businesses asking them to make a change to their use of single use plastic items such as straws.
"Looe has the support of the school, the mayor and the Looe Marine Conservation Group to work towards becoming a straw free town and the motivation of the children has really helped to raise this issue among local business owners. We now have several local businesses on board with this message."
Ellie also recently worked with fashion designer, Linda Thomas Eco Design, and Keep Britain Tidy to raise awareness of the problem of balloon releases.
Linda created the Wave of Waste dress in September, made from the fabric of discarded body boards in Newquay.
Linda wanted to work with Ellie and her daughter to create a dress and cape made entirely out of washed up helium balloons.
Ellie explained: "The 2 Minute Beach Clean community based in Bude rallied round and sent her '99 dead balloons' for her to work on and she created a fantastic outfit for us to wear."
Ellie is hoping to come into Launceston area schools to do assemblies in the next few weeks.
She would like to get sponsorship from local businesses to fund copies of the book to go into every school and pre-school.
"It only needs to be one or two books per school so it is a very easy and cost effective way of reaching hundreds of children with the message about ocean plastics."
Any businesses interested in sponsoring the books for schools, or if any school would like to get in touch regarding books or a visit, please email [email protected]
Comments
To leave a comment you need to create an account. |
All comments 0