Retailer reducing waste and supporting community
Monday 26th April 2021 7:00 am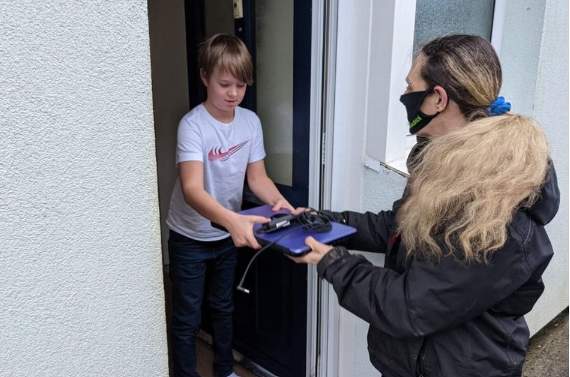 Collectrical CIC collects, recycles and reuses all of HBH Woolacott's old devices and appliances including laptops and whits goods and donates them to local people and families in need
Subscribe newsletter
Subscribe to our email and get updates right in your inbox.
Bude-based electrical retailer, HBH Woolacotts, has made an active effort to become more sustainable and environmentally friendly, and has found a way to recycle its packaging and scrap appliances.
Director of the family-run business, Chris Hemmerle, said: "We have grown significantly as a business in the last 10 years and as we did waste packaging and appliances became a real issue, both in terms of sheer volume and the cost to dispose. From an environmental perspective it was also disappointing to see such large volumes of product packaging and waste go to scrap or landfill. As a business we had a responsibility to improve what we were doing.
"We were generating around four shipping containers full of packaging waste each week which was a huge issue. In 2013 we invested in a polystyrene baler and a cardboard baler at an approximate cost of £25k.
"This meant that our weekly packaging waste reduced down to no more than five or six pallets of baled packaging. The bales are collected weekly by a local recycling business."
This has been such a success that the company, with branches all over Devon and Cornwall, has invested in another extra-large cardboard baler and they now have three separate machines for cardboard, polystyrene and plastic. All waste packaging from the whole business is now processed at their main depot into recyclable bales.
The Directors then looked at the disposal and scrap appliances which were previously being taken to scrap merchants.
"Like the packaging; products and appliances were becoming a real problem," said Chris. "We had been working on a small scale in Liskeard with Plymouth-based social enterprise Collectrical CIC to remove and upcycle our old appliances. Collectrical approached us about having the opportunity to service our whole business. Knowing the positive impact they have on local communities we took the leap of faith with Collectrical in 2016 and have never looked back."
Collectrical CIC is a Plymouth-based, not-for-profit social enterprise that was founded in 2013 with the goal of reducing the social impact of waste electrical products and ultimately collecting, reusing, recycling and donating products. Founders Alex and Sonia Hosking now process all of HBH Woolacotts' old appliances with as many as possible being fixed, made good, and then donated to local families that need them. Collectricals' commitment is not to send anything to landfill and products that cannot be upcycled and reused are broken down with the parts and components sold on and the scrap metal sold on to refineries and recycling plants.
Since the pandemic Collectrical have also been involved in the make a difference campaign and work to upcycle and refurbish laptops to donate to children from low income households for home schooling and education.
Chris said: "Collectrical are an exceptional organisation and we're proud to work with them. Not only does it mean that the communities we work in benefit from their work and the donations, but it's also great to know that products that we used to call 'waste' are of value and are being utilised in the best possible way."