Home awarded for person-centred care model
Saturday 6th February 2021 12:30 pm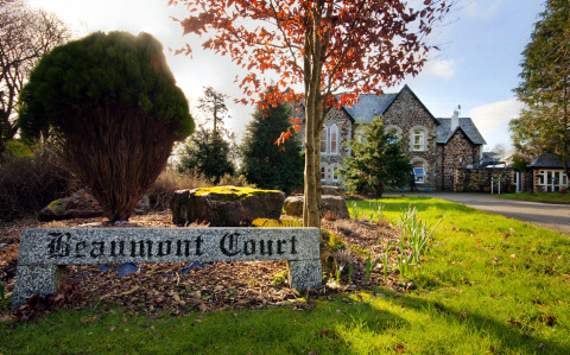 Beaumont Court in Launceston
Subscribe newsletter
Subscribe to our email and get updates right in your inbox.
A LEADING care and culture consultancy has awarded accreditation to Launceston's Beaumont Court, a dementia care home, following the successful implementation of its person-centred care model.
Beaumont Court received accreditation for fostering 'The Butterfly Approach', by Meaningful Care Matters.
The Butterfly Approach focuses on creating a person-centred care culture where people are 'free to be me'. The model values emotional intelligence, domestic household living, and the core belief that everyone living with a dementia has a unique story that has meaning and matters. It is about putting the focus back on people and their emotions by helping carers access the interior world of the person they are caring for. 
Beaumont Court was described by Meaningful Care Matters as having an 'outstanding service with a model of care that provides a meaningful engagement experience'.
Diane Kehoe, home manager of Beaumont Court, said: "We're delighted to be reaccredited as a Butterfly home by Meaningful Care Matters. These are challenging times for the social care sector, so to be able to continue to prove that we offer a high level of emotional intelligence and exceptional person-centred care, is a real testament to our amazing team — who, as the model promotes, are more like one big extended family!"
Surrey's Huntington House and Langham Court, which make up the Huntington and Langham Estate near Haslemere, also received recognition for establishing The Butterfly Approach and 'The Dragonfly Approach'. Similar to the butterfly model, The Dragonfly Approach is for all care cultures, not just dementia-specific. The model focusses on palliative care and hospice services, mental health, learning disability, and generalist health and social care settings.
Peter Bewert, managing director of Meaningful Care Matters, said: "These accreditations highlight the outstanding work being done to transform the cultures of social care settings. Ultimately, we want to create places where overall wellbeing is increased, staff practice is reinvigorated, and safeguarding, mandatory reporting, and staff turnover is reduced. It's coming back to the art and heart of care, where people, and moments, matter."
Peter added: "It's great to see these care environments stay committed to providing person-centred care cultures during these challenging times for the social care sector. We applaud them for their determination to offer an environment where people can thrive and enjoy the highest quality of life possible."
For more information on Meaningful Care Matters and its cultural transformation models, visit meaningfulcarematters.com
Comments
To leave a comment you need to create an account. |
All comments 0